Expedition China 2006:
Beijing to Lhasa, 5400 km by bicycle and horseback on the trail of Evariste Huc (1813-1860)
---
On 1846, for the first time, two Frenchmen, Evariste Huc and Joseph Gabet, walked into the mythical city of Lhasa. 160 years later, Stéphanie Huc and Jean Guillemot, bicycling and horse riding, treated in the footsteps of these two adventurous characters.
This five months journey led them to cross poorly known regions of China : Inner-Mongolia, Ortous desert, Ningxia, Gansu, Qinghai and Tibet.
Following this adventure, the two travellers provide us with a unique testimony on China far from the usual set ideas and stereotypes.
---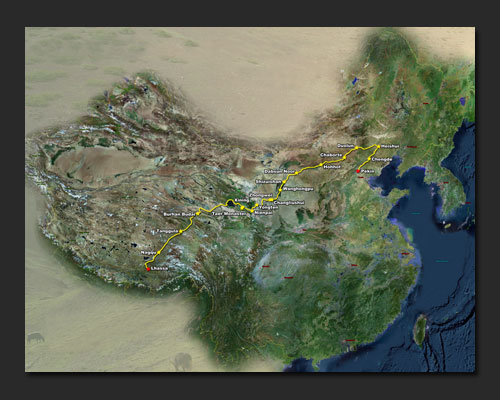 Route followed on Jully 2006

---